For a number of years now I have successfully managed to volunteer abroad and keep the business running as usual. I thought I'd share my practical business tips on how I do this, as I prepare to depart on my next assignment.
Being a highly organised, person I find this easy but communication is still important. Discussing upcoming projects with clients and how they can contact you while you're away eliminates any issues/or concerns of potentially being unavailable. However having said that I receive calls from clients that had no idea they had called me while I was abroad.
Written communication such as email is effective as generally there is 3G or WiFi everywhere – I purchase a local SIM loaded with data so I'm connected 24×7. In addition to email, some people contact me via WhatsApp if it is more urgent.
I connect directly from my laptop or even my phone using secure Remote Desktop apps to troubleshoot servers or desktops. It is the same as being based in New Zealand.
Our VoIP phone system allows people to call using local NZ numbers and we get this in the office, on mobiles wherever in the world we are. There are some free/cheap VoIP systems available for single lines as well and you can assign a number to your Skype account which may be a good solution for a business with a single line.
Likewise I can call anywhere in NZ from abroad as if I was sitting in my office. I can speak with collogues by ringing their extension. This is a real advantage – free phone calls to most countries in the world. Then there is always WhatsApp etc but business client's don't often this so not having a local number would be a barrier to business.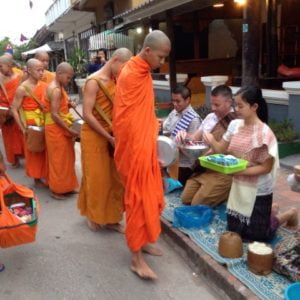 Accessing clients systems is taken care of remotely, but what about access to and working on my own files? I am constantly working on client files and documents and client time/billing system etc. This all sync's via Datto's Workplace- a secure cloud storage and file sharing system. If I work on my laptop, phone or desktop back home everything is updated and in sync. Totally seamless and a life-saver. Perfect for home or small business, we even have businesses with 40 staff on this solution.  Sometimes I email a link to the file (or whole folder) to clients so I can also easily share files and databases securely this way.
I use Trello at home and abroad to manage projects, my current work and tasks. It is web based and such a breeze to keep myself organised. So everything I am working on is available to me when working from Laos. It takes seconds to jot down a note and schedule it to be done.
I have thousands of passwords of my own and clients'. These are stored encrypted and against sync'd. I can access them on my computer or phone so everything is right at my fingertips. I recommend KeePass for this, Lastpass is another good option.
This small toolbox of goodies allows to run a business, keep everyone happy and fulfil my volunteer work all at the same time.
See my list of useful apps for other great tools, many are free apps. If you are interested in working smarter see my Getting things done board which is packed with heaps of other apps to help you plan, manage your time or business and communicate effectively.