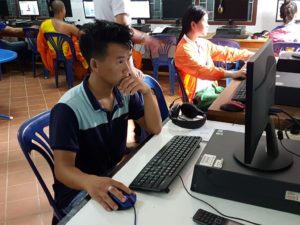 These last few months I have been supporting the Charity school in Laos that I have assisted over the last 5 years. This image is of students during the recent computer exams that were run (we had overall good results).
Currently, 300 students get to have one computer lesson each week and learn topics from the very basic use of a computer through to Word, Excel and Powerpoint.
Unfortunately, the computers that were originally donated are quite old and are running an outdated operating system so more and more problems are being experienced. We need to replace these in the next year in order to continue running the program.
Ultimately new computers would be the best option, we are also looking at replacing the operating system with something more up to date like Windows 7 or 10 so Office and Web browsers continue to run correctly.
If you know anyone who may have the equipment to donate or be able to provide or support licenses and wishes to help, please get in touch.