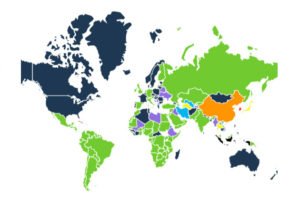 Using Android data from 187 countries, SimilarWeb were able to determine the most popular messaging app all over the world. Messaging apps are the most used app on mobile devices.
Of the 187 countries that SimilarWeb examined, WhatsApp was the world leader claiming 109 countries, or 55.6% of the world. WhatsApp's countries include Brazil, Mexico, India, Russia, and many other countries in South America, Europe, Africa, Asia, and Oceania.
Facebook's Messenger app came in second overall, claiming 49 countries including Australia, Canada, and the U.S. After Messenger, Viber was the only other messaging app to claim 10 or more countries. The app shows strong popularity in Eastern Europe, and is the top app in  Belarus, Moldova, Ukraine, and others. In fact, as of April 2016, Viber was installed on 65% of all Android devices in Ukraine and was used for an average of 16 minutes a day. Viber's popularity also reaches other parts of the world including countries such as Iraq, Libya, and Sri Lanka.
Source SimilarWeb